Fans of The Greatest Showman will love The Electrical Menagerie
I kind of fell in love with Sylvester and Huxley and the story world. I read an ARC of The Electrical Menageries, and when the blog tour sign ups came around, I raised my hand. I'm not one for rereading books but The Electrical Menagerie is one I've already read twice and will likely read again.
Synopsis
The Electrical Menagerie, one-of-a-kind robotic roadshow, is bankrupt.
Sylvester Carthage, illusionist and engineer, has the eccentric imagination the Menagerie needs to succeed creatively — but none of the people skills. Fast-talking Arbrook Huxley, meanwhile, has all the savvy the Menagerie needs to succeed commercially — but none of the scruples.
To save their show, Carthage & Huxley risk everything in a royal talent competition, vying for the chance to perform for the Future Celestial Queen. In this stardust-and-spark-powered empire of floating islands and flying trains, a shot at fame and fortune means weathering the glamorous and cutthroat world of critics, high society, and rival magicians —but with real conspiracy lurking beneath tabloid controversy, there's more at stake in this contest than the prize.
Behind the glittery haze of flash paper and mirrors, every competitor has something to hide… and it's the lies Carthage & Huxley tell each other that may cost them everything.
Pros
Sylvester and Huxley are interesting characters; I love that Sylvester is in his 40s and Huxley in his 20s. This aspect reminded me of The Greatest Showman as did the premise of a struggling circus. Fans of the musical will enjoy this book
Great world building with islands in space, stardust, and magic
The electrical characters, trains, and other inventions are fascinating
There is no sexual content beyond a kiss
Action is exciting but not violent
Overall it's a clean read for all age levels
Cons
No cons based on the story itself – it's a tight story with great pacing, interesting characters and story world
There is murder and crime
One character gets drugged and there is some alcohol use by the main characters; drunkenness and drugs are not glorified
The characters lie and conceal their pasts
Discussion Questions
Sylvester had a crippling illness as a child. How do you think his childhood and adolescence affected his outlook on life as an adult?
How do you think Huxley's upbringing affected his outlook on life as an adult?
If you could have an electrical, what would you choose a performer, a companion, or a worker?
Which of the other acts did you think sounded the coolest (you can't choose the electrical menagerie)?
Which character did you identify with the most?
How do you think Sylvester's health will come to play in the sequel?
 How do you think Huxley's past will factor into the sequel?
 Purchase Links
Amazon: https://www.amazon.com/Electrical-Menagerie-Celestial-Isles-Book-ebook/dp/B07D5TM5VS
Goodreads: https://www.goodreads.com/book/show/39719906-the-electrical-menagerie
About the Author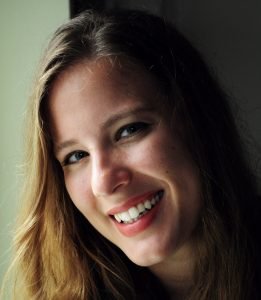 Mollie's first job was with a major theme park, where she operated a roller coaster, fixed parade floats, and helped Scooby-Doo put on his head. Now, Mollie is a movie producer and the author of character-driven science fiction/fantasy novels for adults who never outgrew imagination. Her favorite things include Jesus, dinosaurs, and telling cinematic stories that blend glitter and grit.
Social Media Links